Viking Weave Wire Necklace - One Day Class - Sat 12th Oct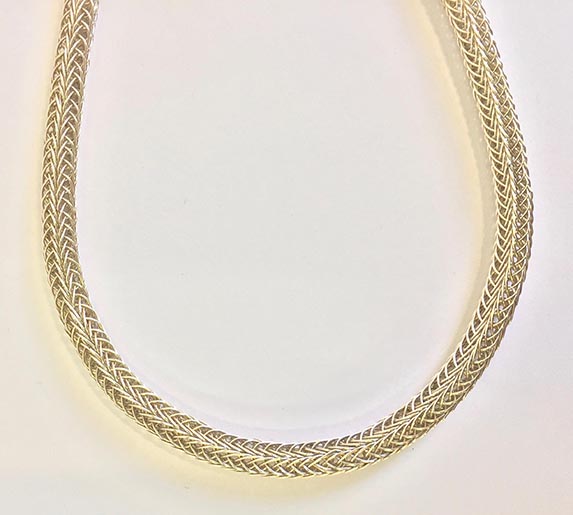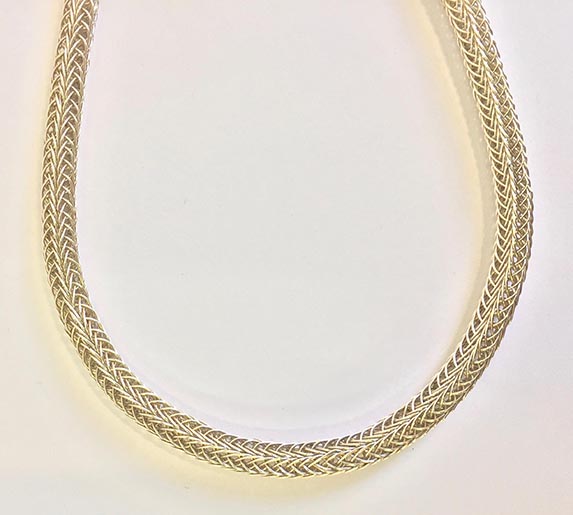 Viking Weave Wire Necklace - One Day Class - Sat 12th Oct
A very satisfying and historic technique to produce strong, hand-woven, flexible chain, used for bracelets and necklaces for men and women.
Viking Weave gives a result similar to French-Knitting but is woven by hand around a rod former. This means that you can use much thicker wire which gives a very sturdy, sinuous tubular chain - no viking helmets required!
I have kept the project fairly simple so makers can achieve a finished item in a day - either a necklace or hoop earrings - but with a stitch modification and further practice it is possible to achieve very strong yet flexible silver chains fit to grace any proud Viking's burial hoard...
We will cover the following tasks on the day:
• how to create a 'petal' starter to guide your stitches
• how to position and attach your starter to the former
• how to weave stitches around your former
• how to join in new sections of wire
• how to magically transform your tubular weaving with a wooden drawplate
• how to finish off your piece and attach fittings
I will also demonstrate several stitch variations for you to try for yourself after the class, or if you have time left over.
What is included?
All your materials are provided, including large knitting needle, a large choice of coloured wire, silver-plated wire, coloured wire necklet or silver ear hoops - and a step-by-step project book to keep. Take home whatever you have left to carry on making at home.
With small class sizes individual instruction is possible, so no-one is left struggling on their own. Information is also given on materials, suppliers and suggested reading.
We follow a project for this class - but it will equip you with many options for designing future projects of your own. No need to bring anything. If you are faster than your fellow classmates I can give you extra tasks to keep you occupied.
Free tea, coffee and biscuits are available throughout the day.
Do I need to bring anything?
If you wear glasses for close-up work you will need to bring them. All tools will be provided. Extra Wire and Beads are available to buy on the day to take home.
What time does the class start and finish?
Classes run from 10.30-4.30pm. We break for lunch at 1pm for an hour - you are welcome to bring your own lunch or pop out to the nearby shops and cafés.
Cockpit Arts is wheelchair accessible.
See examples made in this class at: https://www.facebook.com/terihowesjewellery/posts/1547310161981312